Your Source for Quality Christian Music
556 Ridge Road
Grantville, PA 17028
Phone: 717-277-8815

New Acappella Choral Recordings
A Sacred Heritage II
Aspire Chamber Choir
Songs: O Worship the King/All Hail the Power of Jesus Name/Gracious Spirit, Love Divine/God of Grace and God of Glory/Hail, Holy Light/Joy to the World/Silent Night/Gentle Mary Laid Her Child/I Know That My Redeemer Lives/Jesus, Keep Me Near the Cross/It May be at Morn/Come to the Water/Rock of Ages/I Shall Not Be Moved/This World is Not My Home/Take Thou My Hand, O Father/My Life Flows On/Nothing is Lost on the Breath of God/Take Our Bread/Lord Jesus, You Shall Be My Song
The second volume of Lloyd Kauffman's hymn arrangements. Another very nice recording. (See the Tapestry Chamber Singers for the first volume.)

Perfect Love, Sweet Peace
Laudate Mennonite Ensemble
Songs: Laudate Omnes Gentes/Peace/Lay Me Low/By and By/Swing Down, Chariot/Long Time Traveler/Let Me Fly/I'll Fly Away/Hear What God The Lord Hath Spoken/Calm Me, Lord/Drop, Drop, Slow Tears/Do Not Be Afraid/I Hunger and Thirst/Be Still My Soul/I Believe/Baba Yetu/Peace Prayer/We Shall Walk Through The Valley
The newest recording from the Laudate Mennonite Ensemble. A good choral recording. One of the spirituals is a bit overdone and there is an African piece that has some unusual musical elements, but otherwise a very beautiful recording. All songs acappella.

The Glory of His Grace
Oasis Chorale
Songs: All Hail the Power/Duo Seraphim/Crown HIm With Many Crowns/God of Mercy(Wo ist ein so herrlich Volk)/I Am the Lord/The Spirit of the Lord/Prayer/The Deer's Cry/Walk Together, Children/We Are Not Alone/Bless the Lord, My Soul/Blessed Be the Lord, My Rock/You Are Mine/Wie Selig sind die Todten/Oh, What a Beautiful City/The Eternal Gates
A beautiful recording of acapella choral music and hymns
Tak Bowiem Bog
God so Loved the World
Hope Singers
Songs: To Thee, Oh Lord/Shestopsalmiye/Rejoice In The Lord Alway/Hallelujah, Amen/Chwała Tobie/For He Shall Give His Angels Charge Over Thee/Thou Wilt Keep Him In Perfect Peace; We Seek Thy Peace/Dem, der die Liebe ist/Tak Bowiem Bóg/Taizé Song Sequence - Jubelt und freut euch - Bóg Jest Miłością - Jesus, le Christ - Behüte mich/Ewe Thina We Walk His Way/Do Lord, Remember Me/Imię Jezus/Be Thou My Vision/Jesus, Keep Me Near The Cross/Have Ye Not Known?; Ye Shall Have A Song/Abendlied/Niech Król Wszechświata/O Happy Day
A beautiful recording of acapella choral music and hymns.. A few of the solos lend themselves to a bit of a contemporary vocal feel.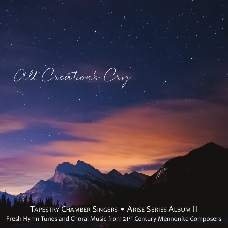 All Creation's Cry (Arise Album Series II)
Tapestry Chamber Singers
Songs: All Your Works Shall Praise You/Shout for Joy to God/Thou Art God/The Stars Declare His Glory/Sing, O Heavens/Christmas Lullaby/Sing of Joy!/'Tis So Sweet to Trust in Jesus/Christ, the Victorious/Peace I Leave With You/Seeds That Good Farmers Sow/An de Good Lawd Know My Name/May the God of Peace/ Eternal Light, Shine in My Heart/Great Things/All the Way My Savior Leads Me/God of Music, Guide Our Song/ Oh, That Men Would Praise the Lord
A second nice recording of fresh hymns tunes and choral music from 21st century Mennonite composers: Lyle Stutzman, Wendell D. Glick,Douglas Byler, Samuel Heatwole, Gary Yoder, Ben Burkholder, Lloyd Kauffman, Lyndon Gehman, Ivan R. Martin, Edwin Bontrager, Merle Yoder, Jotham Yoder, and Jeffrey Martin.