Your Source for Quality Christian Music
805 Horning Road
Richfield, PA 17086
Phone: 717-694-3887

Holy Ground
Voice of Praise
Songs: Holy Ground/Hymble Thyself Medley/Hide Me/Give Me Oil In My Lamp/Standing On The Promises/Keep On Believing/The Story of Jesus Medley/There's A Fountain Free/Calling My Children Home/Michael, Row The Boat Ashore/Glory Hallelu/Now The Day Is Over
A good, solid, traditional Voice of Praise recording. All songs sung acappella.
Silent Night
Heart and Voice Men's Chorus
Songs: Of the Father's Love Begotten/Lo, How a Rose E'er Blooming/O Holy Child/Magnificat/Silent Night/Suo Gan/Tiny Little Baby/Mary Had a Baby/Christmas Angel/Shepherds, Shake Off Your Drowsy Sleep/Rise Up Shepherd and Follow/Shepherds Hurry!/We've Got Good News to Tell!The Star and the Wise Men/Yule-Tide Fires/Salvation Belongeth to Our God
All songs sung acapella.


One Thing I Ask
Dad and the Boys
Songs: Men of Song/We'll All Praise God/Near to the Heart of God/Walking Through the Flames/My House is Full, but My Field is Empty/Enough for Me/One Thing I Ask/We're Going to a Mansion - Jesus Loves Me/Give Ear to My Words/Be Still My Soul/A Shelter in the Time of Storm/Ten Thousand Years/In a Little While/Somewhere in the Skies
Harold Martin and sons gather around the piano for another recording.

Breathe on Me, Breath of God
Mennonite Hour Men's Quartets, 1950-1967
Songs: Hark! Ten Thousand Harps and Voices/Fairest Lord Jesus/Climbin' Up the Mountain/Children, Awake and Sing the Song/Palm Branches/There Is a Green Hill Far Away/He Is Mine/Though I Speak with Tongues of Men and Angels/Just Abide/So Nimm Denn Meine Hande/I Shall Be Satisfied/He Was Despised/In the Cross of Christ I Glory/Majestic Sweetness Sits Enthroned/Dare to Stand Like Joshua/In Times Like These/Evening Prayer/O Thou in Whose Presence/Precious Lord Take My Hand/Fade, Fade Each Earthly Joy/Teach Me Lord/Tis Marvelous and Wonderful/Day of Judgment/For All My Sin/Rise Up, O Men of God/We Shall Shine/Jesus Paid It All/He's a Way Maker/Do You Know the Name of the Father/Jesus I My Cross Have Taken/Breathe On Me, Breath of God.
Includes liner notes tracing the musical journey of Mennonite Hour men's quartets from 1950-1967.
These songs are not available on other Mennonite Hour CDs.

God of Simple Things
Ryan Kimberlin
Songs: Father, I Adore You/I Sing the Mighty Power of God/Eternal Father/God of Simple Things/Jesus, Thou Joy of Loving Hearts/I Love to Steal Awhile Away/My God, I Thank Thee/O Master, Let Me Walk With Thee/My God, Our Help in Ages Past/Sometimes I Hear God's Music/One Thought I Have, My Ample Creed/Bright New World
One song acappella, all other songs accompanied by simple piano instrumentation. An easy-listening, simple recording. Ryan Kimberlin does all the vocals.

Jesus!
Men With a Song
Songs: O Come Let Us Sing/Almighty Father/Prepare Ye/Who is This Tiny King/Shepherds Hurry/The Child Grew Strong/The Remembering/Hosanna We Sing/Forsaken/I Thirst/Yahway/Glory Hallelujah/Heavenly Music/Alpha and Omega

Crown Him the Risen King
Men With A Song
Songs: Almighty/How Great Thou Art/Praise We Sing to Thee/Nearer My God to Thee/The Yearning/Tiny King, Mighty King/We Will Remember/When I Survey/Christ Arose/The Lord is Risen Indeed/Crown Him the Risen King/Almighty King/All Hail the Power of Jesus' Name/Bow the Knee/Heavenly Music/We Seek Thy Peace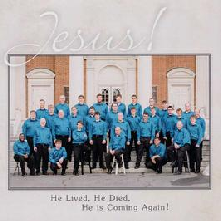 Rise Up, O Men of God
Altar of Praise Men's Chorale
Songs: Praise We Sing To Thee/Holy God, We Praise Thy Name/Come Thou Almighty King/Tell Me the Story of Jesus/Teach Me Thy Truth, O Mighty One/Therefore Give Us Love/Hark! Ten Thousand Harps and Voices/Quit Ye Like Men/Rise Up, O Men of God/Behold a Host/Will I Be Ready When He Comes?/O Paradise!/Precious Lord, Take My Hand/We Have This Hope/Abide With Me
The newest recording from Altar of Praise. Another recording of good solid men's music. All songs acappella.

Go Forth to Life
Christensen Brothers
Songs: Awake My Soul/Worship the Lord/Keep On Believing/I Look to Thee/Praise the Savior/O Thou Best Gift/Is It Nothing to You?/My Soul, Be on Thy Guard/You May Have the Joybells/While Jesus Whispers to You/Room At the Cross/Jesus is Standing in Pilates Hall/One Sweetly Solemn Thought/He's Gone/Go Forth to Life
A cappella men's music from the Christensen family.

Lo, He Comes!
Acapella Men's Voices
Songs: Be Thou My Vision/We Seek Thy Peace/Worship the Lord/Away in a Manger/Rejoice all Peoples/One There is Who Loves Thee/O Love the Lord/A Mighty Fortress/Almighty Father/The King of Love My Shepherd Is/I Know That My Redeemer Lives/The World Needs a Song/If Ye Love Me/Lo, He Comes/Grace Be Unto You/Behold, I Show You a Mystery
A nice recording of a large men's chorus under the direction of Anthony Hurst and Lamar Stoltzfus.

Called, Forgiven and Blessed
Heart and Voice Men's Chorus
Songs: In Thy Holy Place We Bow/Non Nobis, Domine/Create in Me a Clean Heart, O God/Were You There/Sinnuh Man/Agnus Dei/Simple Gifts/Witness/How Can I Keep from Singing?/When I Lift Up My Head/Think About These Things/The Sweet By and By/Wade in de Wahduh/E'en So, Lord Jesus, Quickly Come/We Shall Walk Through the Valley
Another very nice men's recording of acapella choral music and hymns from Faith Builders and Brandon Mullet.

Shadow of the Almighty
The Miller Brothers
Songs: Thank You, Dear Lord, For Music/O Worship the King/I Am The Bread of Life/The Shadow of the Almighty/Jesus Paid It All/Yes, He Did/Because I Have Given Much/Blessed is He That Readeth/Little David, Play on Your Harp/Light Up the Fire/When I Lift Up My Head/It is Well With My Soul/Swing Down Chariot/How Long, Dear Savior/Good News, Chariot's a'coming/Joy By and By/We Shall Walk Thru the Valley in Peace
A quartet recording from sons of Ken Miller of Stuarts Draft, VA. Solid men's singing with a bit of barbershop mixed in as well as a early American piece sung in that style.